FREQUENTLY ASKED QUESTIONS ABOUT THE YELLOW MARKETING PROGRAMME...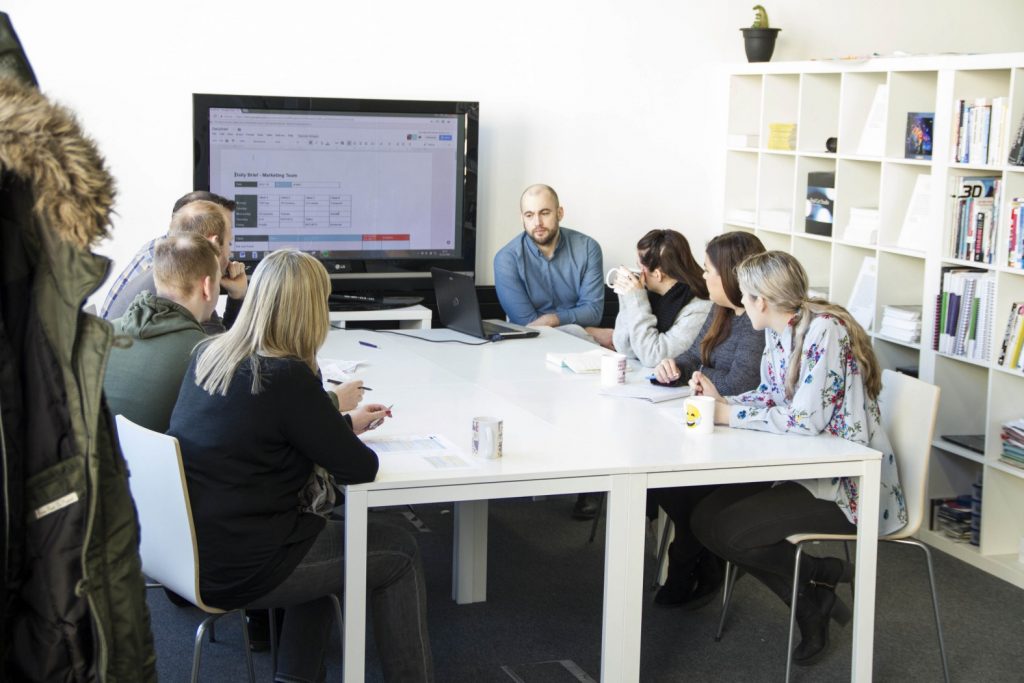 How do you get to know our Business?
Firstly, we will send over a questionnaire for you to fill out and then we will do a variety of market research on your industry. We can also research previous campaigns we have produced to see what works well.
All we need to know to get started is; learn what makes you stand out in your industry, who your target audience is, what problems you solve and why people would choose to work with you over your competitors.
Does this take up a lot of my time and can I keep track of what you are working on?
Every client is different, and we can adapt to whatever the requirements are. Some clients like to speak to us daily and others prefer to just meet up once a month.
If you are struggling to put 5 minutes aside for a chat each day, we can do a video call at the end of each week to go through things.
You can keep track of what the team are working on each day as we have a project management system that gives you regular progress reports so you can see things like deadlines and turnaround times.
We also want to make sure you are happy with the work beforehand so we will never put anything live until it and has been signed off by you.
Do we have an account manager?
Yes, you will have an account manager who contacts you every day, but a full team will be working on your projects. So, if you call, whoever answers will know who you are and will be able to help with anything you need.
Where are you based?
We are just off the M62, close to Liverpool John Lennon Airport and our office is also easily accessible by train or bus.
There is also plenty of free parking which is a big reason for moving out of the city centre, to make it easier for clients.
Our address is: Yellow Marketing Programme, 12a Matchworks, Speke Road, Liverpool, L19 2RF.
What is the contract length?
There are no long-term contracts, just an initial 3-month period and then just a 30-day rolling contract there on in.
So, if we are not doing our job you won't keep us around long which will give you peace of mind we are working just as hard in month 10 as we did in month one.
How will you know what campaigns to do first?
Firstly, we will ask for your list of priorities that you want us to start with and secondly, we will put together a content calendar for the year.
This will cover things like trade shows/events, peaks  and troughs of the year, what service / product you want to push first etc so everything will be scheduled in advance for you.
How many hours do we get each month?
We will produce a schedule for you to sign off each month and then we will complete everything on the list/
Once its signed off, we will then, review schedule and put it live – This way you will know what to expect by the end of that month.
As a collective total you will get roughly about the same amount of hours as hiring a full time member of staff but you will get a full team (all have their own specialisms) working on your bespoke campaigns each month which will create a lot more work than one member of staff can on a daily basis.
Is everything bespoke?
Yes, everything is bespoke – we do not use templates, and everything is produced from scratch.
Is everything done in-house?
Yes, it is, there is no outsourcing which is how we keep costs down.
How are you different to all the other marketing agencies out there?
Most agencies are either marketing and web or they are design and video – We do it ALL.
We offer more marketing services than anyone can offer at a price nobody will match – you essentially have access to a whole team of experts rather than just one person in house.
How many clients to do you work with on the programme?
We work with a maximum of 21 clients at a time on the programme to keep quality at a high standard.
We do have other areas of the business that are separate to the programme e.g. video department and this is dealt with by other members of the team that do not work on the full marketing programme.
What social platforms do you post on?
We post on Facebook, LinkedIn, Instagram, Twitter, and YouTube (we can upload videos created to YouTube for you).
How do you know what content to post?
We want to make sure we are doing relevant campaigns, different topics online and what content we should be producing.
We have software that tells us how many people are reading certain topics and content in your industry and therefore, we know what will be good and where to post.
How do you know what to focus on each month?
We would have a full schedule in place for the month ahead based on your priorities etc.
We want to have quality campaigns to a particular demographic each month so we are focusing on different products/services and that way whatever we are working on is getting ready for the following month.
How often will you post on social and to which platforms?
We will do a full website audit to improve the conversion rate and we will regularly split test landing pages to improve the website ongoing.
We will post content every 2 days on Facebook, LinkedIn, Twitter, and Instagram. Changing each one accordingly to suit each platform e.g. language, images etc.
How would you improve our website?
We would do a full website audit initially and check things like calls to action and contact details are displayed on each page, user friendly etc.
People hate to guess what to do when they land on a website so we would make sure this is clear from the minute they land on the page explaining how you can help etc to reduce the bounce rate.
How often do I get video and photography as part of the programme and does it include full unlimited copyright?
You will get a full day of video and photography, fully edited and up to 3 videos from the shoot (e.g. main promotional video, testimonial and a meet the team video).
What happens if we need you to focus on something new that is not on the schedule for the month?
We understand there will be times that ad hoc tasks will come up that are not on the schedule and that's not a problem- the great thing about the programme means you will never run out of hours like you would with most agencies.
We would just ask what has priority e.g. the project we are working on at the time or the new thing you need completing to meet a deadline and you get to choose.
Do I get website management as part of the programme?
Yes, you will get up to 3 hours of website management each month which includes:
Changing/adding text on a web page
Changing/adding images & banners on a web page
Adding video content previously filmed/edited
Adding plug ins to WordPress
Resizing images
Adding Google, Facebook & LinkedIn tracking code,
Adding data capture forms to the website
Design changes that can be without editing code
Yellow cannot provide the above support for any websites that are run by a 3rd party including but not limited to Git repository manager / platforms (e.g. Git Hab, Git Hub etc) or system deployment software (such as Deploy HQ).
What should my ad spend be each month?
Essentially, we like to work out how much you are willing to spend to get one customer and then how many customers you want – this lets us work out your budget and we plan your marketing accordingly. 
We recommend starting small initially while we do lots of split testing to see what works best and then based on results we will know if we put X amount this way it will return X amount. Rather than just guessing before anything has been tested (as guess work can become expensive) so we want to take this risk away. 
What are the extra charges that are not covered in the programme?
The only extra costs on the programme COULD be as follows:
printing and posting – depending on how much you need
text marketing (just £50 per 1000)
travel to shoots but only if you want us around the country (however we will not charge for shoots at your office)
Finally, pay per click costs would be paid for by the yourselves – we just add your card details to your own account.
Can you focus on more than one brand for the same price?
No, we can only focus on one brand as additional brands are essentially seen as another business and therefore if we are doing 2 brands its twice the work etc.
How will you improve our SEO?
We will do a full SEO audit to fix or add any outstanding problems you have and see if there is anything that can be improved.
Then we will regularly upload keyword rich content to your website each month and this will help with Google (Google love a website regularly being updated).
How would you improve our PPC Campaigns?
If you are already doing PPC Campaigns, we will split test to improve what you have been doing as well as landing pages and increase the number of ads and traffic you have.
We do not have repeat business, what will you do?
We can do referral schemes which will help bring in new business by offering incentives.
Lots of testimonials as this will prove your product/service is as good as you say by the people who have already used it and this will help build trust.
Feedback campaigns, this will help you see what you may need to improve on to get more repeat business just by asking a few relevant questions.
Get people back for premium products e.g. subscription service etc – these are the people who already trust you so if you do a good job they will buy again when the time is right – we just need them to see us regularly to stay in the front of their mind.
How would we get started?
If you wanted to get started on the programme, we would first send over an agreement form with our terms and conditions – basically confirming what services are involved, payment details, information on copyright (once you pay at the beginning of the month everything produced is yours) and cancellation terms (30 days' notice after initial 3 months) when that is signed, we'd book in an official date to start that suits you and we'll send over a link to our project management system to start uploading some details that we need (images, log ins, logos etc) while we wait for them we will get started with research and your marketing plan.
Then we get together asap to go over plans for world domination (or at least bringing in new clients anyway)