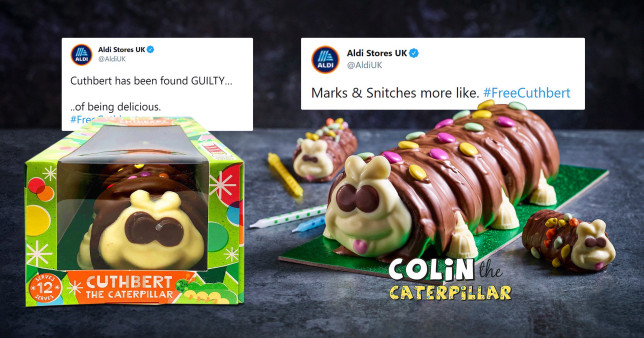 As many of you will have seen recently, there has been a social media outburst from UK supermarket Aldi as they face a quite serious court case from competitor Marks & Spencer.
Aldi's social media team made light of the situation, tweeting frequent jokes and memes that related to the issue which has caused quite a storm with the public.
Marks and Spencer are allegedly suing Aldi for copyright infringement over their Colin the Caterpillar cake, as Aldi had their own variation called Cuthbert the Caterpillar with undeniable similarities to the Marks and Spencer version.
In reaction to this, Aldi's social media was filled that weekend with tweets mocking Marks and Spencer's, as well as the legal issue.
Tweets included a new packaging design where Cuthbert the Caterpillar was behind prison bars, as well as calling the supermarket brand 'Marks & Snitches'.
People were quick to jump onto this and as with most things on the internet these days, the public was divided.
Whilst some were calling Aldi 'pathetic' for their social media outburst and imitation of the cake, others jumped to Aldi's defence praising their reaction.
It's undeniable that the Twitter outburst has given Aldi a social media boost, as the tweets went viral across the UK and saw them getting over 50k retweets on single posts.
It also started a huge conversation for both brands, meaning hashtags for #Aldi and #M&S were trending throughout most of the weekend. This is especially impressive since it was the first weekend of UK lockdown restrictions being eased, with many people flocking to retail shops and hospitality.
So, what can we learn from Aldi in this situation? We definitely aren't here to give legal advice – however, their social media reaction is worth looking at.
By taking risks with their social media, being slightly more tongue and cheek and pushing the boat out – they managed to cause a nationwide conversation and create viral engagement for themselves.
Not only that but other supermarkets such as Asda and Morrisons were also involved and by mentioning them in tweets, this has allowed for Aldi (as well as the brands they mentioned in tweets) to benefit from shared traffic.
This means that the audience following Morrisons will have likely engaged with Aldi's social media over the weekend and vice versa.
Whilst we never know what exactly is going to go viral, it's a lesson to be learnt for the way we approach our social media channels.
Especially as for many of you reading this, your social media channels will be for your business, it can become a bit daunting to think of posting something out of the box.
Working with a marketing agency like YELLOW Marketing e means you work with a team of creatives who can do this hard work for you. If you're ready to follow the steps of Aldi and revamp your social media, why not get in touch with us?
You can contact us here.